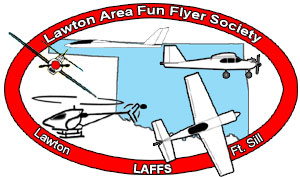 Welcome to the website for Lawton Area Fun Flyer Society (LAFFS). LAFFS was created in the early 1980's as an AMA Chartered Club but was later disbanded due to several factors. In 2008 the club was reactivated in order to build a new flying field for the RC pilots of the Lawton/Ft. Sill Oklahoma area.
LAFFS is an AMA Chartered Club and abides by all rules and guidelines set forth by the AMA. We are proud to participate in the AMA District VIII.
The Lawton Area Fun Flyer Society promotes and encourages all types of flying within the RC hobby, including RC planes, RC helicopters, RC Gliders, Free Flight, as well as the new AMA Park Pilot Program.
---
Recent Posts
JAN.
27        Swap Meet                              Prague, OK
FEB.
MAR.
24        OKC RC Flyers Swap Meet   Oklahoma City, OK   Oklahoma Hobbies & RC
                                                                                                9117 S. Walker Ave.
APR.
21        Rusty Dog Fun Fly                 Yukon, OK (*)
MAY
5-6       Ken White Mem. Scale&Warbird Fly In        Austin, TX
19-20   ARKS Fun Fly                        Amarillo, TX (*)
JUN.
1-3       Giant Scale Fly In                   Guthrie, OK (*)
8-9       Warbirds Over Texas              Aubrey, TX  (*)
JUL.
6-7       Dawn Patrol                            Guthrie, OK (*)
AUG.
11-12  Warbird Days                          Amarillo, TX (*)
24-25   West Texas Warbirds              Abernathy, TX (*)
SEP.
14-15   Warbirds Over Tulsa               Tulsa, OK
22-23   Fall Fun Fly                             Ponca City, OK
OCT.
NOV.
DEC.
2018 Events Schedule Word Doc
2018 Events Schedule PDF
The OKC RC FLYERS Swap Meet March 24 2018 Flyer
Dawn Patrol Flyer
Giant Scale Fly In Flyer
For those at the club meeting last week who wondered how the transparent florescent red covering on my Lanzo Bomber would show up in the air, the answer is "pretty good". It didn't light up like I thought it would, but it's still pretty visible. Intrepid LAFFers Ron Hipp, Mike Hervey, Sean Holmgren, Leonard Baker, and Tom Regan were also at the field this morning doing their thing. I estimated the wind at 6-7mph from the southeast.
— Larry