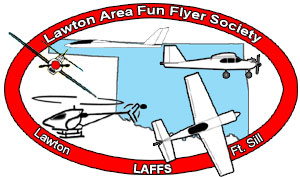 Welcome to the website for Lawton Area Fun Flyer Society (LAFFS). LAFFS was created in the early 1980's as an AMA Chartered Club but was later disbanded due to several factors. In 2008 the club was reactivated in order to build a new flying field for the RC pilots of the Lawton/Ft. Sill Oklahoma area.
LAFFS is an AMA Chartered Club and abides by all rules and guidelines set forth by the AMA. We are proud to participate in the AMA District VIII.
The Lawton Area Fun Flyer Society promotes and encourages all types of flying within the RC hobby, including RC planes, RC helicopters, RC Gliders, Free Flight, as well as the new AMA Park Pilot Program.
---
Recent Posts
The wind picked up more than forecast, so as I arrived at the field just before 9:00 a.m., my wind gauge said it was 9 mph, gusting to 14 from the northeast. Four intrepid LAFFers: Steve Bell, Paul Phillips, Clem Wehner and I chose to brave the gusts, and were joined later by club sage, Gene Wallock, as the wind dropped to a breeze from the East/Northeast later in the morning. Paul got a couple of flights on his re-engined "Hog Bipe"; Clem refined the whole flight envelope for his retract-equipped "Ultra Sport 40″, and Steve flew both his "Four Star" and his new "Waco UMX" very impressively. Attached are a few photos of Steve's "Waco". Keep in mind while you're looking at them that the plane is an out-of-the-box 21" span model flying on a 2S battery—and thanks in part to it AS3X receiver, it handled the wind extremely well.
— Larry