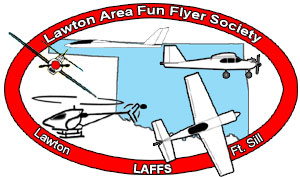 Welcome to the website for Lawton Area Fun Flyer Society (LAFFS). LAFFS was created in the early 1980's as an AMA Chartered Club but was later disbanded due to several factors. In 2008 the club was reactivated in order to build a new flying field for the RC pilots of the Lawton/Ft. Sill Oklahoma area.
LAFFS is an AMA Chartered Club and abides by all rules and guidelines set forth by the AMA. We are proud to participate in the AMA District VIII.
The Lawton Area Fun Flyer Society promotes and encourages all types of flying within the RC hobby, including RC planes, RC helicopters, RC Gliders, Free Flight, as well as the new AMA Park Pilot Program.
---
Recent Posts
We had a nice turn-out today, including Leonard Baker from Elgin who has joined our merry band. Welcome, Leonard! Corky, Mike, Dan, Bob, Sean, Steve, Tom and Tony (Who am I leaving out?) all had good flights, although the cloud cover only broke partially and momentarily from time to time, making keeping orientation difficult.
(read more…)
Guys, here are some shots from this morning's flying, principally of the new planes that appeared for their maiden flights, or in the case of Steve Jakubiszyn's "Venture", a re-re-maiden flight.
The P-47 is Mike's newest,which began as a stock Top Flite ARF, but then underwent weathering, detailing, and flattening of the original paint–a most effective scale transformation! Ask him how he did it! There's also one shot of Bob's veteran P-47. Can you tell the difference?
The "Venture" which I built in 2013 as a replacement for the original mid-air victim of 2009, was itself mid-aired less than two weeks ago. I gave what I regarded as the useless carcass to Steve Jakubiszyn as soon as we hauled it off the field. What you are seeing is the unbelievable repair work by the "Maestro of Make-overs" that is nothing short of incredible—and it flies just as well or better than it did before it was totaled!
— Larry